COVID-19 update: We are OPEN. Please read my blog post regarding the coronavirus and how it affects your dogs and cats. Also, how my Phone/Skype/Zoom consultations can help you tremendously and why it is essential to continue dog training, and boarding (with social distancing).
According to The American Veterinary Medical Association (AVMA), and the World Small Animal Veterinary Association (WSAVA), there is "No evidence that COVID-19 can be contracted from pets".
If you're a dog parent, either you've already put a lot of time and money into your dog's well-being, or you will soon because you want your new puppy to grow into the family.
That's why dog obedience issues are frustrating.  Behavioral problems are the main reason most people surrender dogs.
You'd never do that, but you do want to reach an understanding with your dog.  You may think "bad dog!" even if you don't say it.  Dog behavior issues don't sort themselves out, they require compassionate teaching, understanding, and learning by both the parent and dog. That's what we're here for!
If you live in or near Los Angeles and want professional dog obedience training, look no further than Fun Paw Care.  Renowned dog trainer Russell Hartstein has over 30 years of experience in helping dogs on their journey from wild to well behaved.  We can help you and your dog, too.
To see whether Fun Paw Care is a good fit, please fill out our online questionnaire.
Or read on to learn more about dog obedience training and about our approach.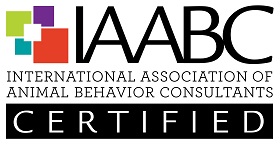 Are dogs ever too old to train?
Contrary to popular belief, older dogs CAN learn new tricks. Dogs are never too old or too young to train.
Of course, training a more mature older dog differs from training a puppy. Your dog will need special attention from a certified dog trainer.
Our dog obedience training boot camps are perfect for mature dogs and puppies and for any dog who has picked up the kinds of habits you just can't live with anymore. The program is customized to your family and dog's needs, personality, and specific behavior problems. Once your dog is through obedience training or our Dog Training Boot Camp program, you and your dog will be able to enjoy the loving, frustration-free relationship you've been hoping for.
What is certified fear-free dog obedience training?
Fear-Free Pets is an animal training certificate program that focuses on training dogs through the use of positive reinforcement, as well as through a thorough understanding of a dog's emotion, cognition, genetics, while also focusing on proper husbandry, gentling (handling), and antecedent arrangement (environment).
It's also designed to help relieve a dog's fear, anxiety, and stress in general, which can make training efforts more successful and curb anxiety-based problem behaviors.
Working with Fun Paw Care means taking advantage of a humane and effective dog training program. We want to be productive, but we also want to make the experience fun and positive for your dog. The positive reinforcement dog training your dog receives ensures that he or she is happy to listen to your requests throughout training.
Where will my dog be trained?
It depends on the training program you choose. Our Boot Camp training course brings dogs on-site overnight for dog training and behavior modification. But most of our training programs take place in the comfort of your home, with you and your trainer (me, Russell) working together to get the best results.
You can obedience-train your dog with us even if you don't live near Los Angeles. We offer Phone/Zoom/Skype dog training consultations so you can take advantage of our expertise from anywhere in the world.
Does online dog obedience training work?
Dog obedience training videos don't work very well, but one-on-one consultations with certified dog trainers work wonderfully. You receive training right alongside your dog in real-time, which helps you interact better with your pup in the future.
We walk you through each dog training exercise while you physically perform the exercise with your dog in your home. We're also on-hand to help you troubleshoot any problems that may arise, or help you address any concerns you may encounter. 
Can you train my dog as a service dog?
Absolutely. We train mobility dogs, hearing dogs, PTSD dogs, and non-service dogs such as emotional support dogs, and therapy dogs.
Start working with dog obedience expert Russell Hartstein
Are our dog obedience training services right for you? Fill out our questionnaire!
Dog Obedience Dog Training Los Angeles, CA
(In parent's home)
List of all recommended dog obedience training and pet products we recommend
Clicker/Marker training is an operant conditioning method that creates a reward-based relationship with the pet and parent. We recommend this advanced method for all pets, especially dogs that demonstrate nervous tendencies or those that need to build confidence. It is also great for teaching fun skills and tricks such as Sit, Stay, Sit – Stay, Down, Down – Stay, Come, Loose Leash Walking, Heeling, Play Dead and Give Paw.
1 Hour – $295 & Up
(In addition to the one-hour session, you receive a detailed dog training and behavior analysis plan with abundant supporting resources)