If you are looking for emotional support animal training near me, you have found the very best emotional support dog training Los Angeles California has to offer.
You and your dog will learn more in one week (or longer!) than you ever thought possible!
Russell has been appointed by two consecutive Mayors, as a member & liaison of the Disability Access Committee (D.A.C.) for his emotional support animal training and ESD expertise.
Do you have a need for an ESA dog to be with you in your home? Do you need to live with your emotional support animal to ease your anxiety, fear, or stress? If you need your emotional support animal (ESD/ESA) to live with you in a no pets allowed home, apartment building and an HOA, landlord and/or building won't allow it, start emotional support dog training today to learn how to train your do so they are allowed to live with you and provide you with the emotional support and assistance you that you need.
Emotional support animal (ESA) training is called many names such as emotional support dog (ESD), ESA dog, support animal or assistance animal, etc. but they all mean the same thing. For the purposes of the emotional support animal training in Los Angles,  we offer we will focus on dogs and not other species and use the titles interchangeably.
There are several different types of service dogs, including, PTSD service dogs, hearing dogs, mobility dogs, psychiatric service dogs (PSD), and autism dogs. There are also other types of dogs with jobs that help people, including therapy dogs and emotional support animals (ESA).
Every person and ESA-trained dog is unique, while service dogs are trained specifically to mitigate an individual's disability, emotional support dogs are not. Please visit our service dog training page if you have a specific disability that a service animal would help mitigate.
Russell has been a Canine Good Citizen (CGC) Evaluator and STAR Puppy Evaluator by the American Kennel Club (AKC) for decades. Although Fun Paw Care does not support the AKC, we train dogs to a high degree of proficiency to meet higher standards than their Canine Good Citizen certification test and evaluate and test them after they have been sufficiently trained. Setting a standard higher than being a CGC shows a commitment that you are a responsible pet guardian and that your pet exhibits exceptional manners, behavior, and is a well-trained ESA dog.
The CGC and similar designated criteria are regarded by many pet professionals as the stepping stone or minimum criteria to becoming an ESA/ESD.
Los Angeles parents that want to focus on a specific behavior or training issue or who want to speed up their ESA dog training would benefit from Emotional Support Dog Boot Camp (Board and Train).
The Standard of Expert Emotional Support Animal Training Near You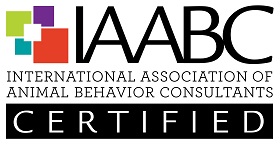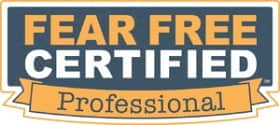 Overview of Fun Paw Care's ESA Dog Training Options
(Jump Down List) 
Option 1: Emotional Support Animal Boot Camp Los Angeles (Board & Train)
(Our most popular ESD service, In Russell's five-acre fully fenced-in dog boarding and training school near you)
Our Emotional Support Dog Boot Camp in Los Angeles (Board and Train) is designed for dogs that require extra work in certain problem areas or that have special needs. Our Dog Boot Camp lasts for a week or longer. Emotional Support Dog Boot Camp is designed for extra busy dog parents that don't have either the time, expertise, or skill to work with their dog and want a Certified Dog Behaviorist, Trainer, and Nutritionist to do most of the heavy lifting.
Option 2: Online Emotional Support Dog Trainer Classes & Answers to All Emotional Support Animal Questions
(Online, one-on-one with Russell)
Whether you live in Greater Los Angeles, live elsewhere, or travel a lot, the best emotional support dog trainer is only as far as your device of choice.  Fun Paw Care's Fear-Free Certified Dog Trainer, Behaviorist, and Nutritionist, Russell Hartstein can meet all of your emotional support animal dog training and behavioral needs through an online ESA dog training session. We offer remote classes via phone or video chat. Russell will walk you through the same steps that he would if he were in your home doing a private one-on-one emotional support animal dog training or behavior modification session.
1 Hour – $495
(In addition to the one-hour session, you receive a detailed emotional support dog training and behavior analysis plan with abundant supporting resources)
*Platinum Club Members receive complimentary Phone/Video Consultations
Option 3: Los Angeles Emotional Support Dog Behavior Modification, Troubleshooting & Obedience Training Near You
(In dog parent's home)
If you are looking to train your dog to become an emotional support animal and need a dog behavioral problem solved, you have come to the right place. As Certified Los Angeles dog trainers and behaviorists, we use the science of learning, ethology (the study of species-specific behavior), and cognitive ethology to help our clients compassionately and gently improve their ESD's behavior and emotion.
Our Behavior Modification service is appropriate for aggressive dog training and all emotional support dog behavior issues, from mild to serious types of dog behavior problems and disorders. Our methods are humane, non-confrontational, Fear-Free Certified, and designed to decrease household stress and improve the human-dog bond.
We use non-aversive, positive reinforcement dog training and gentle methods to improve your dog's behavior. We show parents how to recognize, handle and modify their body language, behavior, energy, and environment in ways that help your dog learn at the fastest rate possible.
Russell uses Clicker/Marker training which is an operant conditioning method that creates a reward-based relationship between dog and dog parent. We recommend this advanced method for all pets, especially dogs that demonstrate nervous tendencies or those that need to build confidence and independence. It is also great for teaching fun skills and necessary obedience for an emotional support dog tests such as Sit, Stay, Sit – Stay, Down, Down – Stay, Stand. Stand-Stay, Recalls, Loose Leash Walking, Heeling, Play Dead, Drop-It and Leave It.
We use an evidence-based approach, gentle and force-free methods, and positive reinforcement. These combine operant conditioning, classical conditioning, counter-conditioning, desensitization, and habituation, all of which help remedy mild and severe cases of fear aggression in dogs.
Our approach also remedies ESA behavior problems like:
Dog biting, nipping, growling, lunging, snarling, etc.
Dog barking
Dog potty training
Leash pulling
Destructive behavior, indoors or outdoors
Begging for food (like during mealtime)
Bolting out the door
Jumping on people
Over-arousal
Dog aggression (dog-dog, dog-cat, and dog-human)
Territorial aggression
Resource guarding (toys, food, bed, room, parent, etc.)
General anxiety
Dog fear, anxiety, stress and phobias of noises, people, other animals, objects, storms and/or walks
Separation Anxiety Disorder, separation distress, isolation distress and similar problems when left home alone or with another person
Obsessions/Canine Compulsive Disorder (e.g. balls, dog toys, vacuums, shadows, dogs, cats, squirrels, etc.)
Wheel phobias (bicycles, skateboards, rollerblades, cars, etc.)
Noise phobias and all types of dog fear, anxiety, stress, arousal.
All canine cognitive and emotional issues
New pet consultations (dog-dog, dog-human, & dog-cat introductions)
In addition, we will show you:
How to detect signs of stress and aggression in dogs
How to stop dog aggression before it starts
How to solve leash aggression in dogs (aka leash reactivity)
How to stop pet aggression toward other animals
How to solve dog food aggression
How to solve resource guarding
How to stop your dog from chasing the mailman, UPS driver, etc.
How to solve dog behavior problems
Emotional Support Dog Training Los Angeles Prerequisite:
*In addition to the one-hour session, you receive a detailed emotional support dog training and behavior analysis plan with abundant supporting resources
*Members Only
Frequently Asked Los Angeles Emotional Support Animal Questions
Please use this table to jump to a specific FAQ section below.
What Is An Emotional Support Animal?
Emotional support animals (ESA) go by many names however whether someone is talking about an ESA, ESD or an emotional support dog, they are all referring to an assistance animal that provides you with therapeutic emotional support.
An emotional support dog is not necessarily a service dog. A service dog can be an ESA or vice versa (an ESA can be a service dog) however there are much stricter training requirements and criteria to become a service dog than an esa. Including different service dog laws, rights and government bodies that regulate them.
How To Train An Emotional Support Dog?
You would train your ESD the same way you would train your service dog. Your ESA must have impeccable manners and training. As mentioned in HUD documents,
"The FHA does not require a dwelling to be made available to an individual whose tenancy would constitute a direct threat to the health or safety of other individuals or whose tenancy would result in substantial physical damage to the property of others"
In other words, if your ESA barks excessively, is not potty trained, has separation anxiety or general dog anxiety, lunges, growls, attacks, jumps on people, displays any type of dog aggression towards dogs, cats, prey, or people, etc. they may not be permitted to live with you regardless if they are an emotional support animal or not.
Can I Fly With An ESA?
You can no longer fly with an ESA. In January of 2020, the U.S. Department of Housing and Urban Development (HUD) revised the laws to state that only service animals may fly with a person on an airplane.
However, landlords and apartment dwellings, are still required to provide reasonable accommodation to accept an emotional support animal even in a no pets and/or breed discrimination building or dwelling.
How To Register An Emotional Support Animal?
You can register your dog as an emotional support animal after you train your dog and they have impeccable manners. How to register your dog as an emotional support animal also depends on where you live.
In Los Angeles for example, you might have to register your ESA with the county or city you live in. Depending on where you live would determine if there are ESA registration requirements or not.
It's important to know that there are no federal laws mandating that you register your ESA or any assistance animal. Any registration of assistance animals (if any) happens at the local level (town, city, county, state).
When To Tell A Landlord About An Emotional Support Animal?
There is no perfect time to tell a landlord about your emotional support animal. Ideally, as soon as you are living with your ESA you should bring it to your landlord's attention.
However, you can tell your landlord after you get an ESD, before you get an ESD, if you get an eviction letter because you are keeping your ESA in a no pet building, or if you have a restricted breed, etc. There are no circumstances that prohibit you from telling your landlord at any time that you now have an ESA.
However, it stands to reason that the sooner you tell your landlord the better.
Make sure to put together an impeccable pet resume that any landlord would appreciate.
Can I Get An ESA Certification by Phone / Video Training?
While it's possible, it's not practical or probable.
Emotional Support Animal Phone and Video Consultations are great for many scenarios. But a Phone/Video Service (or many of them) would not be an appropriate medium to evaluate or train an Emotional Support Animal.
Learning how to train an Emotional Support Animal is a long and expert intense, hands-on process. It's a high-touch, multi-environment process where a Certified Emotional Support Animal Dog Trainer and Behaviorist trains your ESD.
In addition, your Emotional Support Animal has to be tested and trained in so many environments and in so many ways. It is not possible to get an ESD trained via Phone and Video Consultations alone. Phone and Video Consultations serve as a wonderful adjunct to Dog Boot Camp however they do not replace it.
If you are an expert dog trainer and have years of experience, and expertise in training ESAs a Phone/Video Consultation may be beneficial to help you in whatever areas you and/or your dog are struggling with. However due to the nature of Emotional Support Animal training, Boot Camp would be the most appropriate and only service that would offer your dog the best chance at becoming a Certified Emotional Support Animal.
Best Emotional Support Dogs
There are no "best emotional support animals". The best ESD is the dog that you love and train the best.
Because Certified Behaviorists and Trainers always look at the individual unique dog in front of them, any dog breed or mongrel can make a wonderful ESA.
However, there are practical concerns to consider such as the size of your ESA before starting emotional support animal training.
Larger dogs are not only much more expensive than smaller dogs but they don't travel as easily and take up much more space than smaller dogs.
In addition, when providing therapeutic emotional support, larger dogs might injure you if they were to lay on or rest on you.
Lastly, you might want to consider that there are dog breeds that are bred for more independence vs dependence, and that are more touch/tactile oriented than others.
But even then the individual dog you train and their respective, demeanor, personality and temperament trumps all other breed stereotypes.
ESA letter
Who can write an ESA letter?
The laws are not black and white with regards to who can write an ESA letter which is why there are so many scam websites where you can buy an ESA certification letter and/or service dog certification letter.
Typically an ESA letter is written by a health care professional who can "legally" (under oath) attest to your need for an ESA such as a physician, optometrist, psychiatrist, psychologist, nurse, etc.
How To Ask A Doctor For An Emotional Support Animal?
You should be comfortable when speaking with your doctor, or psychologist about your health care needs.
Also, speaking with your doctor or psychologist is confidential so confiding in them that you have a disability or want to get an emotional support animal would be very helpful for them to know and for you to articulate and explore.
If your doctor, psychologist, psychiatrist or health care professional does not understand the benefits of an emotional support animal consider establishing a relationship with a different health care professional who understands your emotional needs and how you can benefit from an ESD.
How To Get An Emotional Support Animal (ESA)?
We get many similar questions daily such as "How to make your dog an emotional support dog?", "How to make my dog an emotional support dog?", "How to get an emotional support dog?", and "How to get an emotional support animal?"
As with any assistance dog, you can purchase one that is already ESA trained to provide you with emotional therapy or find the best dog trainer who specializes in training ESDs and assistance animals to help you train your dog to become an ESA.
Fun Paw Care does not breed or sell emotional support dogs. We help train your dog to become an emotional support dog.