Chosen by CBS News as the best dog trainer near you!
If you are looking for dog training near me, you have found the very best dog trainer Los Angeles has to offer.
You and your dog will learn more in one week (or longer!) than you ever thought possible!
Here's a list of all of the dog products we use and recommend
Fun Paw Care has the best dog trainer Los Angeles parents and dogs can wag a tail at according to:
Overview of Fun Paw Care's Positive Reinforcement Dog Trainer Los Angeles Options
(Jump Down List) 
We hope to get to know you and your dog(s) and earn your trust and your dog's bark of approval. As a dog behavior expert and dog trainer of 30+ years, Certified Dog Trainer, Behaviorist and Nutritionist, Russell Hartstein can strengthen your dog-human bond and teach you how to solve your dog's behavior problems.
Russell's wide range of positive reinforcement dog training services includes Dog Board and Train (Dog Boarding and Training Boot Camo), Puppy Training, Behavior Modification Consultations and long-term Obedience Training.  Russell offers dog training services throughout the Greater Los Angeles area.
Things you can expect less of include, dog aggression, dog biting, dog barking, dog separation anxiety, dog potty training accidents, leash pulling, general destruction of property, and dog behavior problems. Things you can expect more of include peace and quiet, mellow playtime, relaxing walks, better dog habits, better sleep for both of you, improved communication, and a deeper loving bond and understanding of your best friend.
Contact Fun Paw Care to see what the best dog trainer in LA can do for you.
Read on to find out more about each of our 3 specific dog training services.
The Standard of Dog Training in Los Angeles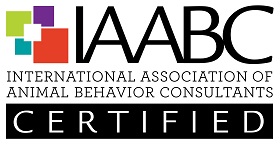 ---
Option 1: Dog Boot Camp Los Angeles (Board and Train)
(In Russell's five-acre fully fenced private dog boarding school near you)
Our Los Angeles Dog Boot Camp (Boarding and Training) is designed for dogs that require extra work in certain problem areas or that have special needs. Our Dog Boot Camp lasts for a week or longer. Boot Camp is designed for extra busy dog parents that don't have either the time, expertise, or skill to work with their dog and want a Certified Dog Behaviorist, Trainer, and Nutritionist to do most of the heavy lifting.  
---
Option 2: Dog Trainer Los Angeles Behavior Modification, Troubleshooting & Obedience Training Near You
(In a dog parent's home)
If you are at your wit's end and need a dog behavioral problem solved, you have come to the right place. As Certified Los Angeles dog trainers and behaviorists, we use the science of learning, ethology (the study of species-specific behavior), and cognitive ethology to help our clients compassionately and gently improve their dogs' behavior and emotion.
Our Behavior Modification service is appropriate for aggressive dog training and all dog behavior issues, from mild to serious types of dog behavior problems and disorders. Our methods are humane, non-confrontational, Fear-Free Certified, and designed to decrease household stress and improve the human-dog bond.
We use non-aversive, positive reinforcement dog training and gentle methods to improve your dog's behavior. We show parents how to recognize, handle and modify their body language, behavior, energy, and environment in ways that help your dog learn at the fastest rate possible.
Russell uses Clicker/Marker training which is an operant conditioning method that creates a reward-based relationship between dog and dog parent. We recommend this advanced method for all pets, especially dogs that demonstrate nervous tendencies or those that need to build confidence and independence. It is also great for teaching fun skills and advanced obedience tricks such as Sit, Stay, Sit – Stay, Down, Down – Stay, Stand. Stand-Stay, Recalls, Loose Leash Walking, Heeling, Play Dead, Drop-It and Leave It.
We use an evidence-based approach, gentle and force-free methods, and positive reinforcement. These combine operant conditioning, classical conditioning, counter-conditioning, desensitization, and habituation, all of which help remedy mild and severe cases of fear aggression in dogs. 
Our approach also remedies dog behavior problems like:
Dog biting, nipping, growling, lunging, snarling, etc.
Dog barking
Dog potty training
Leash pulling
Destructive behavior, indoors or outdoors
Begging for food (like during mealtime)
Bolting out the door
Jumping on people
Over-arousal
Dog aggression (dog-dog, dog-cat, and dog-human)
Territorial aggression
Resource guarding (toys, food, bed, room, parent, etc.)
General anxiety
Dog fear, anxiety, stress and phobias of noises, people, other animals, objects, storms and/or walks
Separation Anxiety Disorder, separation distress, isolation distress and similar problems when left home alone or with another person
Obsessions/Canine Compulsive Disorder (e.g. balls, dog toys, vacuums, shadows, dogs, cats, squirrels, etc.)
Wheel phobias (bicycles, skateboards, rollerblades, cars, etc.)
Noise phobias and all types of dog fear, anxiety, stress, and arousal.
All canine cognitive and emotional issues
New pet consultations (dog-dog, dog-human, & dog-cat introductions)
In addition, we will show you:
How to detect signs of stress and aggression in dogs
How to stop dog aggression before it starts
How to solve leash aggression in dogs (aka leash reactivity)
How to stop pet aggression towards other animals
How to solve dog food aggression
How to solve resource guarding
How to stop your dog from chasing the mailman, UPS driver, etc.
How to solve dog behavior problems
Dog Trainer in Los Angeles Prerequisite (in a dog parent's home):
*In addition to the one-hour session, you receive a detailed dog training and behavior analysis plan with abundant supporting resources
*Members Only
---
Option 3: Online Dog Trainer Classes & Answers to All Pet Questions
(Online, one-on-one with Russell)
Whether you live in Greater Los Angeles, live elsewhere, or travel a lot, the best dog trainer is only as far as your device of choice.  Fun Paw Care's Fear-Free Certified Dog Trainer, Behaviorist, and Nutritionist, Russell Hartstein can meet all of your dog training and behavioral needs through an online dog training session. We offer remote classes via phone or video chat. Russell will walk you through the same steps that he would if he were in your home doing a private one-on-one dog training or behavior modification session.
1 Hour – $495
(In addition to the one-hour session, you receive a detailed dog training and behavior analysis plan, with abundant supporting resources.)
*Platinum Club Members receive complimentary Phone/Video Consultations
---
Los Angeles Dog Trainer FAQs
Please use this table to jump to a specific FAQ section below.
Are dogs too young or too old to train?
Contrary to popular belief, older dogs CAN learn new tricks. Dogs are never too old or too young to train.
Of course, training a more mature older dog differs from training a puppy. Your dog will need special attention from a certified dog trainer.
Our dog obedience training boot camps are perfect for mature dogs and puppies and for any dog who has picked up the kinds of habits you just can't live with anymore. The program is customized to your family and dog's needs, personality, and specific behavior problems. Once your dog receives Russell's obedience training, Dog Training Boot Camp or Puppy Boot Camp in Los Angeles, you and your dog will be able to enjoy the loving, frustration-free relationship you've been hoping for.
My dog is fearful and aggressive to other dogs on walks, in the park, and in my office.  Can we meet at the park where my dog is reactive instead of our home?
No, I do not recommend meeting in the park or any other environment besides your home for several reasons.
You and your dog would be set up for failure and the session would be a waste of your time and money.
You never want to allow a dog to rehearse an inappropriate behavior.  Meeting in an environment where your dog is over-aroused, stimulated or triggered is the worst place to start training and learning for people and dogs.
Dog Training is analogous to our K -12 schooling.  Your dog (and parents) need to begin learning in kindergarten to build fundamentals and foundational training methods and protocols in the most familiar, non-distracting environment before even considering exposing your dog to a highly distracting Ph.D. course, such as a dog park or where they are triggered. Without a very strong conditioned history of foundational behavior work and desensitization and counterconditioning, a dog and parent will be set up for failure.  And if you're coming to me for behavior and training help, you and your dog are most likely not ready for those environments.
Also, because your home environment is so critical and affects all aspects of your dog's behavior and is vital to any behavior inside or outside of the home, it is mandatory to see and work with your dog in your home first in order to assess your skills and your dogs before even thinking about upping the level to a distracting environment.
In our private positive reinforcement dog training session in your home, we will cover a tremendous amount of information, from A to Z about dogs. For example, you will learn about a dog's behavior and training, learning theory, body language, husbandry, cognition, emotion, physiology, nutrition, socialization, and enrichment.
Lastly, because about 80% of the first session is geared specifically towards the parents it is imperative we have a comfortable place to speak and for you the parents to learn in as well as your dog.
What is a Certified Fear-Free Los Angeles Dog Trainer?
A Certified Fear-Free Los Angeles Dog Trainer is a professional dog trainer who is Certified by Fear-Free Pets.
Fear-Free Pets is an animal training certificate program that focuses on training dogs through the use of positive reinforcement, as well as through a thorough understanding of a dog's emotion, cognition, genetics, while also focusing on proper husbandry, gentling (handling), and antecedent arrangement (environment).
It's also designed to help relieve a dog's fear, anxiety, and stress in general, which can make training efforts more successful and curb anxiety-based problem behaviors.
Working with Fun Paw Care means taking advantage of a humane and effective dog training program. We want to be productive, but we also want to make the experience fun and positive for your dog. The positive reinforcement dog training your dog (and family) receives ensures that he or she is happy and eager to listen to your requests throughout training.
Where will my dog be trained?
It depends on the training program you choose. In Russell's  Dog Boot Camp Los Angeles training camp, he brings dogs on-site overnight for dog training and behavior modification. But Russell also offers puppy and dog training in LA and all over Greater Los Angeles for Club Members.  Russell provides exclusive one-on-one, private LA dog training in the comfort of your home working together to get the best results or on Fun Paw Care's dog training and behavior ranch.
You can also obedience-train your dog and troubleshoot dog behavior issues with Russell even if you don't live near Los Angeles. We offer Phone/Zoom/Skype dog training consultations so you can take advantage of Russell's pet expertise from anywhere in the world.
Does online dog obedience training work?
Dog obedience training videos don't work very well, but one-on-one consultations with certified dog trainers work wonderfully. You receive training right alongside your dog in real-time, which helps you interact better with your pup in the future.
We walk you through each dog training exercise while you physically perform the exercise with your dog in your home. We're also on-hand to help you troubleshoot any problems that may arise, or help you address any concerns you may encounter. 
Can you train my dog as a service dog?
Absolutely. We train mobility dogs, hearing dogs, psychiatric service dogs and (PSD) and PTSD dogs, and non-service dogs such as emotional support dogs, and therapy dogs.