Chosen by CBS News as one of the best puppy training schools in Los Angeles!
You have a V.I.P. (Very Important Puppy), and they deserve the very best puppy training Los Angeles California has to offer.
COVID-19 update: We are OPEN. Please read my blog post regarding the coronavirus and how it affects your dogs and cats. Also, how my Phone/Skype/Zoom consultations can help you tremendously and why it is essential to continue dog training, and boarding (with social distancing).
Learn how to choose a dog trainer, and how we teach and apply compassionate, humane, and the most up-to-date scientific research in positive reinforcement puppy training, behavior, and ethology. For many people, adopting or buying a puppy is a new experience, or maybe you just haven't had a puppy to care for in a long time. Learn all there is to know about puppies, proper husbandry, socialization, play, nutrition, developmental stages, and upbringing to avoid costly behavior problems down the road. An ounce of prevention is worth a pound of cure!
When should you start training? Yesterday! There is no "too early" to start training; the earlier, the better. Here are just some of the many areas our Certified Puppy Behaviorist and Trainer will discuss and teach:
Proper Socialization and play
Teaching puppies not to bite
Crate training
Body handling
Pen setup/doggie den
Independence training, to stop separation anxiety before it begins
Finding the best playgroups, classes, and partners
Husbandry
Gentling
There are many things to think about when bringing home a puppy for the first time. The American Veterinary Society of Animal Behavior (AVSAB) says that early socialization is essential to a happy and well-adjusted puppy. We have been puppy training for decades and are here to guide you through every step of the training process. The age of 3 weeks – 13 weeks is a sensitive/ critical learning period. Research shows that behaviors learned during this time frame have a tendency to stick throughout the puppy's life more than at any other age. It is therefore critical to put your pup on the path to success and to train, educate, and socialize them within this highly influential time frame.
For all of your pet behavior needs, Fun Paw Care will be there to teach your family and your puppy all there is to know about puppy training and behavior. You can rely on Fun Paw Care to offer the most up-to-date scientifically proven, positive reinforcement, gentle approach to start your relationship off on the right paw for the rest of your puppy's life. Training is vital for a well-balanced, healthy, long, and happy life with your pup. Do not let distance stop you from receiving a world-class education and master trainer. Fun Paw Care's trainers will travel to your home or will video, telephone, and/or teach remote puppy classes for out of town families. Fun Paw Care's Certified Dog Behavior Consultants and Certified Professional Dog Trainers provide a sophisticated one-on-one service in the privacy of your own home.
We apply all of our skills and decades of experience to help train your puppy no matter how old they are. We are Fear-Free Certified Puppy Trainers and our puppy training services use force-free, gentle positive reinforcement dog training techniques to help your pet behave better and become more responsive. Pet parents are also taught how to communicate with their puppies, so that all training may be reinforced at home, and the person-puppy relationship can grow stronger. Learn why we never recommend choke chain, prong collars, or shock collars. Visit our dog training page to learn more.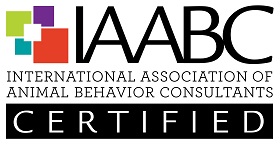 ---
Puppy Boot Camp
(In Certified Dog Behaviorist/Dog Trainer's home facility)
List of all recommended puppy products
Our Los Angeles puppy boarding and training boot camp is designed for high energy puppies, including aggressive puppy biting, aggressive puppy play, and puppies with special needs, that require extra work in certain problem areas. Do you ever wonder, "Where is a safe and effective puppy boot camp near me"? Or, "Where can I board and train my puppy"? Do you have a busy schedule and don't have the time to teach puppy training? Do you ever wish you could find the best puppy boarding school or boarding and training program? You have! Drop your puppy off with us for one or more weeks and give them the best education, training, behavior modification, and care a puppy can get.  At our five-acre private ranch, we offer our Los Angeles Boot Camp boarding and training service. Here your puppy will receive intensive training and behavior modification so that when your dog returns to you, they are better behaved and well-mannered, fulfilled, enriched, and happy.
All training, behavior modification, and boarding will take place in a private, five-acre, spacious, impeccably clean puppy safe home and ranch, with personalized, one-on-one, undivided personal care and attention taught by one of our master Certified Dog Behavior Consultants (CDBC) (fewer than 200 worldwide!) and Certified Professional Dog Trainers (CPDT).
This is a first-class, highly specialized, catered and customized service where each program is designed specifically to meet the needs of each individual V.I.P. (Very important puppy). Each package will include the following non-punitive, force and fear-free, positive reinforcement training and behavior modification methods depending on your puppy's needs: Operant conditioning, classical conditioning, systematic desensitization, counter conditioning, house training, enrichment, husbandry, gentling, socialization to people, inanimate objects, life, and environment socialization, integration, habituation, stimulus control, proofing, generalization, fluency, basic, mid and advanced level obedience training and your puppy's own customized training and behavior modification program catered just for your pet.
Although your dog will receive hours of intensive daily hands-on training lessons and behavior modification, our love for dogs and ambition to train and rehabilitate each dog successfully typically leads us in putting far more hours of puppy training. Los Angeles pet parents can rest easy, knowing that during your absence, your pet will receive:
(For many other answers to your questions please see our FAQs for Los Angeles Puppy Boot Camp.)
An intensive, hands-on custom puppy training, behavior modification, and boarding program taught and supervised by a master Certified Dog Behavior Consultant and Certified Professional Dog Trainer
Each week of Dog Boot Camp consists of exclusive, private, attention, and customized training and behavior modification every single day for an entire week at our five-acre ranch
Daily detailed puppy training and behavior analysis plan with supporting resources
Functional assessment and behavioral analysis of the training protocol and behavior modification program
At least 4 1-hour personalized adventure, puppy training, and behavior modification walks per day
Feeding, hydrating, walking, cuddling, playing, swimming, medications and exercise schedules maintained per the parent's instructions
Calming classical music, Therapy-grade, organic lavender/chamomile essential oils scientifically proven to calm and soothe puppies
All that the Dog Boot Camp and luxury Puppy Boarding Los Angeles packages offer
Puppy Boot Camp boarding, training, and customized dog daycare with a one-on-one personalized expert Certified Dog Behaviorist, Trainer, and Nutritionist supervision throughout your puppy's boarding
Professional photographs and videos of your puppy's experiences during their puppy training and behavior modification sessions
Comprehensive behavior analysis and detailed puppy training plan with abundant supporting resources to set you up for success the moment your puppy returns to your home
Complimentary recommendations and advice curated for your unique family regarding best veterinarian, toys, enrichment devices, equipment, exercise, and socialization
Uncompromised attention to detail and safety (30-year safety record!)
Members receive up to 50% off of Puppy Boot Camp
Our Puppy Boot Camp Training addresses all puppy behavior problems and issues including but not limited to:
Puppy aggression training
Puppy Fear aggression training
Territorial aggression training
Resource guarding puppy training
Puppy aggression towards other dogs
Puppy leash aggression training
Food Aggression
Puppy dominance aggression
Old dog aggressive to puppy
Puppy aggression towards other puppies
Aggressive puppy play
Aggressive puppy behavior
Puppy fears
Puppy socialization
Puppy play
Puppy enrichment
Puppy nutrition
28+ Hours (per 7 day period)
---
Puppy Behavior Modification
(In parent's home)
List of all recommended puppy products
We solve problems that other trainers and behaviorists are unwilling to take on or do not have the experience or expertise to modify. We utilize our vast experience, knowledge of the science of learning, ethology (scientific knowledge of species-specific behavior) and cognitive ethology to help pet parents improve their puppy's behavior. This service is appropriate for all behavior problems, in particular, mild to serious types of behavior problems and disorders. Our training methods are humane, non-confrontational, force-free, and are designed to decrease household stress and improve the human-animal bond. We educate pet parents on how to recognize, handle, and modify their body language, behavior, energy, and antecedent arrangement (environment) which helps your puppy learn expeditiously in a fun environment. Fun Paw Care's scientific approach, gentle, force-free methods and positive reinforcement training combines operant conditioning, classical conditioning, counter conditioning, systematic desensitization, habituation and is successful in treating mild and severe cases of socialization, fear-based, aggression and problem behaviors such as:
Puppy separation anxiety/problems when home alone
Puppy house training (potty training/house soiling)
Puppy leash pulling
Destructive behavior indoors and/or outdoors
Begging for food (during mealtime, etc.)
Puppy bolting out the door
Puppy jumping on people
Excitability
Puppy aggression
Resource guarding (toys, food, bed, room, etc.)
Puppy general anxiety
Puppy fear, phobia or anxiety of noises, people, other animals, objects, storms and/or walks
Puppy obsessions (vacuums, mailmen, UPS trucks)
Wheel Phobias (bicycle, skateboard, rollerblades, car, etc.)
New pet consultations (dog-dog, dog-human, & dog-cat introductions)
In addition, some of the techniques, protocols, and skills we will teach you are:
How to detect signs of aggression in a puppy
How to stop puppy aggression
How to solve leash aggression in puppies
Pet aggression training towards other animals
Food aggression in puppies
How to solve puppy behavior problems
Sign up for our private expert puppy aggression training classes to work on puppy training leash aggression, puppy on dog aggression, and all training and behavior problems you are having with your puppy.
1 Hour – $295 & Up
(In addition to the one-hour session, you receive a detailed puppy training and behavior analysis plan with abundant supporting resources)
---
Positive Reinforcement Puppy Training
(In parent's home & designed for puppies in their neonatal, transitional, socialization, sensitive, and integration periods, 1-21 weeks)
List of all recommended puppy products
During each customized visit, a Fun Paw Care Certified expert puppy trainer will socialize your pup to their new environment by introducing sights, sounds, noises and smells in your home. We use food rewards when teaching positive reinforce puppy training so your puppy listens to you all the time, not just when you have treats. We will focus on husbandry, nutrition, enrichment, play, and early-stage, time-sensitive, developmental cognition, social and physiological functioning. Each of these stages is a period of time when puppies are particularly sensitive to environmental influences. As puppy behavior, training, and nutrition experts, we have helped thousands of puppies (and their parents) get through the challenges of puppy potty training, socializing, teething, biting, barking, leash skills, and more. We will also begin to introduce the fundamentals of sit, down, stay, and come.
1 Hour – $295 & Up
(In addition to the one-hour session, you receive a detailed puppy training and behavior analysis plan with abundant supporting resources)
(Learn why we never recommend choke chains, prong collars or shock collars)
---
Puppy Obedience Training Classes
(In parent's home & designed for puppies in their juvenile period and older, ~21 weeks +)
List of all recommended puppy products
Your puppy will learn clicker/marker training, an operant conditioning method that creates a reward-based relationship. Clicker/marker training opens up the lines of communication between the pet parents and the puppy thus fostering understanding, clarity, and the development of the family relationship. During this time, a puppy's social behaviors begin to take on an adult form that primarily involves the maturing of motor capacities. We recommend this advanced, fun, training method for all puppies, especially puppies that demonstrate nervous tendencies or those that need to build confidence. It is also great for teaching fun skills and tricks such as Sit, Stay, Sit – Stay, Down, Down – Stay, Come, Loose Leash Walking, Heeling, Play Dead, and Give Paw.
1 Hour – $295 & Up
(In addition to the one-hour session, you receive a detailed puppy training and behavior analysis plan with abundant supporting resources)
---
Online Puppy Training Classes
List of all recommended puppy products
Do you live far away from Los Angeles? Distance shouldn't stop you from attending our puppy training classes. We have the best trainers in Los Angeles CA but whether you live in Beverly Hills, Malibu, Santa Monica, Greater Los Angeles California, or overseas, we can help with all of your training and behavioral needs. For pet parents who have multiple residences or live outside of LA, We travel around the world making home visits and also offer remote training via telephone or video chat for those extra busy clients. We walk families through the same instruction that we would provide if we were in your home doing a first-class, private one-on-one puppy training Los Angeles or behavior modification consultation.
1 Hour – $295