Chosen by CBS News as one of the best dog obedience training schools in Los Angeles!
COVID-19 update: We are OPEN. Please read my blog post regarding the coronavirus and how it affects your dogs and cats. Also, how my Phone/Skype/Zoom consultations can help you tremendously and why it is essential to continue dog training, and boarding (with social distancing).
Fun Paw Care is proud to be the best expert Certified Los Angeles dog trainer, behaviorist, and pet care service chosen by most California veterinarians. We take great pride in volunteering our time and expertise to teach dog training, ethology (scientific knowledge of species-specific behavior), and cognitive ethology to the staff and volunteers of humane societies and dog rescue organizations throughout Los Angeles and California.
Fun Paw Care offers comprehensive, premier pet care and dog training classes Los Angeles pet parents rely on. We offer a sophisticated array of obedience training and behavior modification consultations, as well as puppy training classes. At our five acre private ranch, we offer our Los Angeles Boot Camp boarding and training service. Here your pet will receive intensive training and behavior modification so that when your dog returns to you, they are better behaved and well-mannered, fulfilled, enriched, and happy.
Puppies can be a handful, but our puppy training classes will help make them better behaved so that they become better companions. We teach your pup great manners and habits, how to act, curb biting, teach them potty training, and many other desirable behaviors. Equally important, we help puppy parents learn the best way to communicate with their puppy to get incredible results from our training.
Fun Paw Care does not teach aversive dog training methods or practice dominance theory.
The Standard of Dog Training and Pet Care Excellence in Los Angeles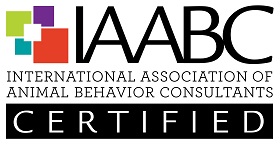 ---
Dog Boot Camp
Our dog trainer Los Angeles Boot Camp boarding and training service includes boarding and training and is designed for dogs that have special needs or require extra work in certain problem areas. Also for parents with busy schedules that don't have the time or expertise to work with your dog, drop your pet off with us for dog boot camp, training, and boarding for one week or longer to give them the best education a family and dog can get! For details on our Los Angeles dog training boot camp and answers to your questions please see our Dog Boot Camp Los Angeles page.
---
Dog Behavior Modification
(In parent's home)
List of all recommended puppy products
We often solve problems that other Los Angeles dog trainers and behaviorists are not interested in or cannot help with such as aggressive dog training. We utilize the most proven and efficacious science of learning theory, ethology (scientific knowledge of species-specific behavior) and cognitive ethology to help clients compassionately and gently improve their pet's behavior.
If you are at your wit's end and need a dog behavioral problem solved, you have come to the right place. This service is appropriate for all dog training issues from mild to serious types of dog behavior problems and disorders. Our methods are humane, non-confrontational, Fear-Free Certified, and designed to decrease household stress and improve the human-animal bond.
We utilize non-aversive, positive reinforcement and gentle methods to modify your dog's behavior. We educate parents on how to recognize, handle, and modify their body language, behavior, energy, and environment which helps your dog learn at the fastest rate possible. In many cases, this change along with our scientific, positive reinforcement approach is the realization and key to rehabilitating your dog in the shortest amount of time and restoring balance and harmony in your relationship.
Our scientific, evidence-based approach, gentle, force-free methods and positive reinforcement combines operant conditioning, classical conditioning, counter conditioning, desensitization, and habituation and is successful in treating mild and severe cases of fear aggression in dogs and problem behaviors such as:
Dog leash pulling
Destructive behavior indoors and/or outdoors
Begging for food (during mealtime, etc.)
Bolting out the door
Dog jumping on people
Dog excitability
Dog aggression (both dog-dog and dog-human)
Fear aggression in dogs
Territorial aggression
Dog resource guarding (toys, food, bed, room, etc.)
Dog general anxiety
Dog fear, anxiety, stress and phobia's of noises, people, other animals, objects, storms and/or walks
Dog Separation Anxiety Disorder/problems when home alone
Dog obsessions / Canine Compulsive Disorder (vacuums, mailmen, UPS trucks)
Puppy Biting/Dog Bites
Wheel phobias (bicycle, skateboard, rollerblades, car, etc.)
New pet consultations (dog-dog, dog-human, & dog-cat introductions)
In addition, some of the techniques, protocols, and skills we will teach you are:
How to detect signs of aggression in dogs
How to stop dog aggression
How to solve leash aggression in dogs
Pet aggression training towards other animals
Food aggression in dogs
How to solve dog behavior problems
Sign up for our private expert dog aggression training classes to work on dog training leash aggression, dog on dog aggression, and all training and behavior problems you are having with your dog.
1 Hour – $295
(In addition to the one-hour session, you receive a detailed dog training and behavior analysis plan with abundant supporting resources)
---
(In parent's home)
List of all recommended dog products
Clicker/Marker training is an operant conditioning method that creates a reward-based relationship with the pet and parent. Read about many FAQs about our Los Angeles dog obedience training. We recommend this advanced gentle method for all pets, especially dogs that demonstrate nervous tendencies or those that need to build confidence.  We teach positive reinforcement dog training with food rewards and also teach how not to bribe your dog.
It is also great for teaching fun skills and tricks such as Sit, Stay, Sit – Stay, Down, Down – Stay, Come, Loose Leash Walking, Heeling, Play Dead, and Give Paw.
1 Hour – $295
(In addition to the one-hour session, you receive a detailed dog training and behavior analysis plan with abundant supporting resources)
(Learn why we never recommend choke chains, prong collars or shock collars)
---
Online Dog Training Class
 List of all recommended products
Want a dog trainer class in Los Angeles or anywhere around the world? Don't let distance stop you from attending our premier dog training classes. Whether you would like a dog trainer in Beverly Hills, Santa Monica, Los Angeles, Miami, or live in New York or overseas, we can help with all of your dog training and behavioral needs. For clients who have multiple residences or live outside of Los Angeles Ca, we offer remote classes via telephone or video chat.
We walk customers through the same instruction that he would provide if he were in your home doing a private one-on-one dog training or behavior modification session.
1 Hour – $295
(In addition to the one-hour session, you receive a detailed dog training and behavior analysis plan with abundant supporting resources)
---
Semi-Private Group Dog Training Classes
List of all recommended dog products
Would you and your pup's friends like Los Angles dog training classes together? Just gather three or more dogs together and receive the same awesome science-based, positive reinforcement education, dog obedience training classes, behavior modification, coaching, and skills but at half the price for each pup! Now that's a saving worth barking about.
1 Hour – $100
---
Daily Dog Walking & Training
List of all recommended dog products
Daily Dog Walking & Training is an excellent way to practice your dog's skills and good manners. While on their daily walk, Fun Paw Care's assistant dog trainer or veterinary technician will work with your pet to instill the obedience and/or behavior modification plan laid out by Russell.
During this customized service, good manners and obedience will be reinforced through Russell's positive reinforcement, science-based, and force-free methods. This is a great way for your pup to get extra practice with basic skills such as sit, down, stay, heel, and come.
With consistent and repetitive dog training classes, Los Angeles dogs will learn quickly and retain this knowledge, leading to a lifetime of obedience.
1 Hour – $102 & Up