Steve Guttenberg Teams Up With Russell Hartstein Of Fun Paw Care
Supporting Service Dogs & Homeless Dogs in Conjunction with 2 Noteworthy Charities!
I am thrilled to announce: film star, actor, dog lover, and one of my closest friends, Steve Guttenberg will be teaming up in support of Fun Paw Care to raise awareness for service dogs and homeless dogs.
We will take part in two events to build awareness of how service dogs can benefit the disabled and will promote the adoption of shelter dogs to function as service dogs.
These events will be run in conjunction with two noteworthy charities dear to my heart, Ability Explosion, which supports people with disabilities, and the Sabrina Cohen Foundation aimed at providing a better quality of life for those with paralysis.
Through training, education, and awareness, Steve and I will work to advance the understanding of service animals and these charities, as well as promote the adoption of shelter dogs to serve as service dogs, therapy dogs, and Emotional Support Animals.
I began service dog training years ago in my quest to help human and nonhuman animals. The idea to rescue dogs that were slated for death, and turn them into service dogs came about from the millions of adoptable dogs that are needlessly killed every year and the millions of people that could benefit from a task trained service dog or other types of assistance dogs.
Homeless dogs, just like bred dogs, can be trained to assist a person in a number of ways and functions including but not limited to:
PTSD
Insulin/Diabetic detection dogs
Autism Service Dogs – Autism Spectrum Disorder (ASD)
Animal-Assisted Therapy
Hearing Dogs
Mobility Dogs
Psychiatric Service Dogs (PSDs)
Seizure Alert/Response Dogs
Guide Dogs /Seeing Eye Dogs
Emotional Support Animals (ESA)
Therapy Dogs
Steve is a dog lover and comes from a long line of dog-loving family members, and is a passionate and loving soul who shines wherever he goes. His list of accomplishments and philanthropy are too long to list here but his works were recently recognized when he was given a Star on the Hollywood Walk of Fame.
ABILITY EXPLOSION
The Ability Explosion luncheon event details are listed on their web site and will be attended by David, Steve, myself, the mayor, commissioners, police chief, and other noteworthy individuals. It is run by a friend, entrepreneur, and colleague David New. After David lost his sight in 2001 from a rare eye disease, he has since become an advocate for people with disabilities in Miami Beach, Florida.
He is currently chairman of the Miami Beach Disability Access Committee and chief promoter of Ability Explosion and president of two humanitarian organizations; Power Access Inc. and Access Now Inc. David also serves as president for the Miami Beach Council of the Blind (an affiliate of the Florida Council and the American Council of the Blind).
The goal of Ability Explosion through experiential events is to encourage people to live a day from the perspective of a person with a disability. David has achieved great success with events such as Lights Out Miami Beach, dining in the dark experience, Wheelchair Basketball, Children's Programs, Resource and Technology Expo, Comedy Festival, and many more.
Through these events, he has been able to increase the awareness, sensitivity, and compassion of his community to understand what it means to be a person living with a disability.
SABRINA COHEN FOUNDATION
The second organization that Steve and I are supporting is the Sabrina Cohen Foundation. Sabrina is an exemplary role model, friend, and driven, passionate individual who gets things done.
Twenty years ago, at the age of 14, she was left paralyzed after a Miami Beach car accident. In 2006, she founded the Sabrina Cohen Foundation (SCF), a 501c3 nonprofit organization dedicated to funding cutting edge research and innovative therapies that will improve the quality of life for individuals living with spinal cord injuries and other disabilities.
Sabrina is in the process of undertaking one of the largest projects in the country to make life more fulfilling and enjoyable for people with disabilities. The project encompasses an accessible Miami beach (aptly named Sabrina Beach) to facilitate people with disabilities and an adaptive playground.
The event to support this endeavor will kick off on October 19th at 12:00 pm at Maurice Gibb Memorial Park, 1790 Purdy Ave, Miami Beach, FL 33139 with service dogs and Miami Dade Animal Services showcasing some wonderful adoptable dogs.
These and all dogs in the shelter system are at risk of being killed due to overpopulation and underfunding. Miami Dade kills 20,000+ adoptable dogs and cats every year! The event will then continue across the street to Fly Wheel, 1919 Purdy Avenue, Miami Beach, FL 33139 at 1:00 PM for a spin class with Sabrina, Steve, myself, the mayor, commissioners, and other noteworthy individuals.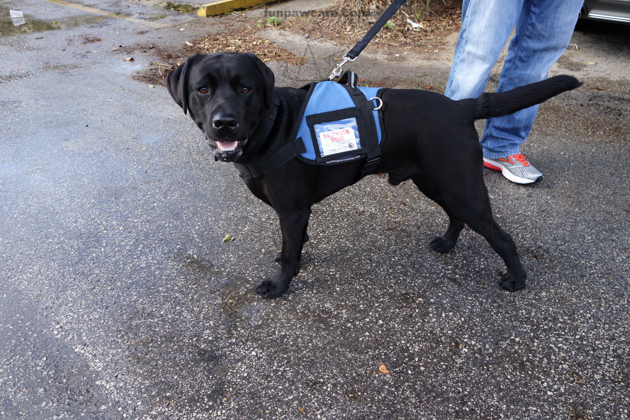 Please sign up today for both of these amazing events as they will be sold out quickly and support wonderful causes and organizations!
Supporting and aiding dogs and individuals with disabilities is extremely rewarding and fulfilling. Helping others is what life is about. For all event details and to purchase tax-deductible tickets please visit each respective website. Please see this Press Release for more information.
Love Fun Paw Care and want to go steady?
Subscribe to our blog today and sign up for our bi-monthly newsletter.